Landscape Installation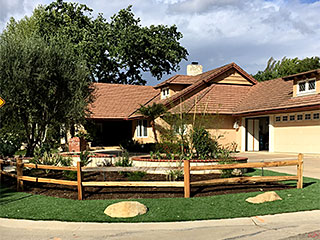 Landscape installation is a specialized job, which is why you need skilled, creative, and knowledgeable professionals for it. There are many aspects, features, and technicalities involved in landscape construction projects, and if you are looking for customized solutions, it's best to hire proven professionals like us. Good Earth Landscape Co. is a premier company in the landscaping industry in Ventura.

Since 1974, we have been blazing trails in the landscape design and build industry. Our company offers custom solutions to both residential and commercial clients in and around Fallen Leaf, Ventura. We know from experience that the usability, sustainability, resilience, and attractiveness of landscapes depend on their design and installation. If you want superb landscape installation services, we are the experts to call.


Range of Landscape Installations
We offer a comprehensive range of landscape installation solutions such as:


Softscapes
The plantings on your property have a vital role to play in the appeal and balance of the outdoor areas. Softscaping includes various perennial and annual trees, plants, lawns, shrubs, etc. It is essential to make the right choices to create well balanced and appealing gardens and yards.

When we handle the job, we source all the trees and plants from the best nurseries and create the perfect topsoil composition before installing them. We have a very creative approach to this job and ensure that the right types of plantings are placed in the right locations in your landscape.


Hardscapes
Just as you need the right kinds of plants on your property, you also need various masonry elements, which are called hardscapes. A driveway, pathways, walkways, as well as outdoor living features such as patios, decks, etc., add to the functionality of your yard or commercial landscape. Our hardscape designers use their creativity and experience to plan these installations based on your specific requirements and the layout of your outdoor spaces.

We use high-quality materials such as natural stone, brick, and concrete pavers, aggregates, river rock, and more in our projects. Hardscape features lend stability to the landscape, improve its resilience, and create a cohesive look in the outdoor spaces. Aside from these installations, we also handle the design and installation of curbing, edging, boundary walls, block retaining walls as well as sidewalks, fire and water features, custom woodwork elements, and more.


Cost-Effective Landscape Construction
Skilled and licensed professionals handle the installation work, and our hardscape designers will also oversee the entire project to ensure that every installation is completed as per the plans approved by you. Every aspect of the project is completed to industry standards so that you have a landscape that is resilient and sustainable.

For any more information about our custom landscape installation services, feel free to call Good Earth Landscape Co at (805) 659-5131. Our team is here to help with the solutions you need. You can also send us your queries and requests through this Online Form, and one of our experts will contact you soon.