Paver Walkways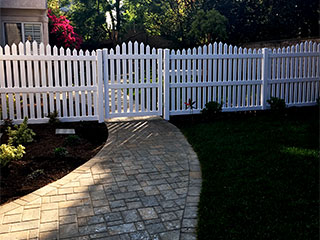 Paver walkways are an essential feature in most landscapes, both residential and commercial. These installations have to be planned with care to provide maximum functionality and complement the look of the driveway and other paved areas in the outdoor spaces of a property.

Today, there is no shortage of materials when it comes to outdoor flooring. But paver stones are some of the best for all types of outdoor living and other features. It is why we recommend the use of pavers for walkways. Good Earth Landscape Co. is a premier company in the landscaping industry in Ventura. Since 1974, we have been blazing trails in the landscape design and build industry.

Our company offers custom solutions to both residential and commercial clients in and around Fallen Leaf, Ventura. If you want superb landscapes with resilient features, consider getting pavers installed on areas like walkways.


Custom Paver Walkway Design
Since we handle start to end landscape design and planning for clients, walkway pavers installation is part and parcel of these projects. When we are designing these structures, we make sure that the styling, design, and materials used are in sync with other areas in the landscape. For example, if you have used natural stone paving for your driveway, we recommend the use of similar units for your residential walkways as well.

On the other hand, sometimes using different materials in the right proportion can create a stunning impact on the outdoor spaces. Our hardscape designers are incredibly skilled and creative in their approach, which means they can provide you with unique paver walkway designs and plans. Since we handle residential and commercial projects, we understand that the requirements of our clients would be different, and we cater to specific needs.

We prioritize customization and personalization in all our projects, big and small. Our experts will have detailed discussions with you and provide their inputs so that your outdoor areas are in line with your ideas. In addition to the actual pavers, we can also install edging along the periphery of the walkways to create well-demarcated paths leading into your yard or garden.


Paver Patio Installation
When we handle the installation of commercial or residential walkway pavers, we make sure that the areas are prepped correctly and leveled perfectly. If the walkways have to be installed on sloping land, we can also incorporate paver steps into the design. The construction of retaining walls along the walkways is another aspect that we focus on in these projects. If you need these paths installed in an existing landscape, we can handle that project as well.

Seasoned paver installers will install all the units perfectly so that they provide a stable and durable surface for walking. We use the best quality paving products in our work, and this enhances the beauty and sustainability of your landscape.

For any more information about our custom paver walkway design and installation services, feel free to call Good Earth Landscape Co at (805) 659-5131. Our team is here to help with the solutions you need. You can also send us your queries and requests through this Online Form and one of our experts will contact you soon.