Landscape Maintenance
Commercial Property Care
First impressions of any business are formed before a potential client or tenant even steps through your front door. When your landscape is properly cared for, it will add to your property's "curb appeal," helping to attract and retain even the most selective potential customers. Your property is a living, growing investment, and enhancing it with a professional maintenance program is a sound choice that will keep it growing in value for many years to come.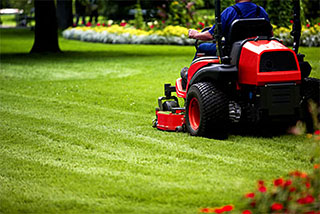 At Good Earth Landscape, we can to provide creative and cost-effective solutions for any type of commercial maintenance needs you may have. From weekly maintenance programs to fast response in emergency situations, we have the expert staff and top-quality equipment to get the job done right the first time...with minimal disruptions to you, your clients, or your property.

When you work with Good Earth Landscape, you will save time and money while improving your property and your bottom line.


Residential Property Care
Good Earth Landscape takes great pride in offering a secure and convenient maintenance program for all of your landscape challenges. With our plant health care program, Good Earth's expertly trained staff will perform a comprehensive inspection to assess your plants existing environmental conditions, including an analysis of soil conditions, nutrient levels and watering schedules. We prescribe the necessary adjustments to achieve healthy and flourishing plants and trees, monitor your outdoor lighting and irrigation systems, ultimately saving you costly expenses due to symptom removal, disease control and energy output.

Good Earth Landscape offers an extensive lawn and garden maintenance program. Our caring staff will customize a program to best fit the needs of your property to include:


Turf maintenance and fertilization.
Repair and maintain irrigation and adjust timers.
Plant healthcare services.
Shrub pruning and edging.
Soil amendments and mulching.
Seasonal flower rotation.
Weed control.
Pests and disease control.
Complete policing and litter pick-up.
Maintain landscape lighting and adjust timers.
Tree pruning service and clean up.
Year-Round Dependability
Good Earth Landscape seasoned staff of professionals will be here when you need us, all year long. From simple tree and shrub pruning, to the removal of fallen trees in a storm, no task is too large or too small. Regular inspections are an important part of our full-service packages, enabling us to identify and treat any potential problems before they have a chance to do serious damage. Discover how easy and affordable grounds management can be by giving us a call today. We will be happy to provide you with a free, no-obligation inspection of your property to determine the maintenance options that will work best for your unique situation.