Outdoor Lighting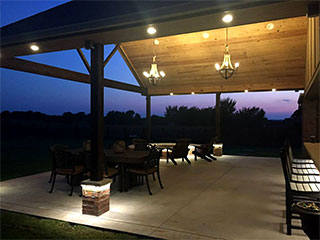 Landscapes are always a combination of different features and elements, including hardscapes, softscapes, custom stonework, fire features, water features as well as woodwork, and more. While all of these are fundamental aspects of your landscape, you also need to have the right kind of exterior lighting. Skilled landscape designers will always include the correct type of landscape lighting fixtures in the designs and layouts they create for clients.


Expert Landscape Lighting Solutions
Good Earth Landscape Co. is a premier company in the landscaping industry in Ventura. Since 1974, we have been leaders in the landscaping industry and handle every aspect of these projects, including outdoor lighting. Our company offers custom solutions to both residential and commercial clients in and around Fallen Leaf, Ventura.

We know from experience that the sustainability and resilience of landscapes depend on their design. But aspects such as usability, safety, and attractiveness depend on the types of lighting that you have in the outdoor spaces. If you want superb garden lighting plans and layouts, we are the experts to call. When we are providing landscape designs, we also include detailed plans for these features.


Custom Outdoor Lighting Ideas
We know from experience that regardless of how superb your landscape design is or how stunning the elements, without the correct landscape lighting, these spaces will look lackluster. You would not be able to use outdoor areas optimally after dark without proper floodlights, deck, and patio lights. Our team of landscape designers understands that every client will have specific requirements, which is why they focus on providing customized exterior lighting plans.

They will survey the available space, understand what kind of features you have in it and which ones you want to highlight or mask. The right outdoor lighting theme can uplift the look of even the most straightforward landscapes. In addition to choosing the right kind of fixtures, the location of these elements is also an important aspect we keep in view.


Range of Landscape Lighting Fixtures
Since every landscape is different and will have various elements, we help you choose the perfect features for your outdoor spaces. The range of landscape lights that we can install for you as part of your project include:


Floodlights for gardens
Lights for decorative pillars & columns
Pathway, walkway and driveway lamps
Outdoor kitchen, patio and deck lights
Lamps for fire feature areas
Paver lights
Lights for retaining walls
Lights for garden steps
Garden lamp posts
Underwater lighting
Other
Energy-Efficient Exterior Lights
We also recommend the use of LED lights and fittings for outdoor areas, as this improves the energy efficiency of the installations. They are easy to maintain and also help to create the kind of ambiance you want in your outdoor areas. Our company uses the best quality outdoor-grade lighting fixtures and installation techniques to make sure that every aspect of your landscape lighting is top-of-the-line.

For any more information about our custom landscape lighting services, feel free to call Good Earth Landscape Co at (805) 659-5131. Our team is here to help with the solutions you need. You can also send us your queries and requests through this Online Form, and one of our experts will contact you soon.