Retaining Walls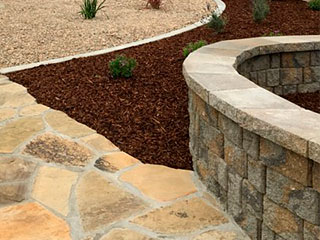 With retaining walls, you can protect your yard's beauty while improving its safety. No matter how tall or short, retaining walls are helpful for any yards or landscapes. They're primarily functional features, but strategically placed retaining walls will enhance the aesthetics of a backyard and turn it into something extraordinary.

At Good Earth Landscape Co., we provide custom retaining wall construction in Ventura, CA. We know how to create a retaining wall ideally for you to keep your soil in place and allow the plants to thrive. We'll make sure your retaining wall matches the rest of your landscaping, so you'll have a stunning outdoor space.


Retaining Walls: Why Install Them?
There are numerous advantages to having retaining walls in your yard, which makes them a must-have.


A garden or flower bed's soil bed is held by retaining walls, which also serve as a planting management feature, saving your plants from being uprooted if the soil shifts. The earth pushes up against the wall, but a well-engineered stone retaining wall acts as a brake, preventing the soil from moving around.


Retaining walls help to keep soil in place, which minimizes the likelihood of erosion in your garden. In the event of severe rain, erosion might result in a soggy yard and other issues for your home's foundation. Retaining walls can help you avoid these problems altogether.


Prevent flooding in your yard by installing retaining walls. These walls are meant to keep water flowing through your yard appropriately. Drains and retaining walls go hand in hand, as the former will help keep water from pooling near the latter.


Retaining walls give your yard depth by creating varying levels of elevation. When built into your yard's slopes and grading, these features can provide you with various outdoor living options. For a better perspective, build a deck or seating area adjacent to the wall or install it to create a multi-level walkway design.


Retaining walls are beautiful to look at, too. Stone materials like piled stone, brick, flagstone, or concrete masonry blocks can all be used to construct retaining walls. Our designers can easily blend landscape and hardscaping features to create a stunning design you will like.


Retaining Wall Cost
Because our specialists know how vital retaining walls are to your yard's aesthetics as well as its functionality, they are committed to supplying you with structures that do both. The walls we build are guaranteed to look great and are built to last for many years. We offer reliable and affordable solutions with no compromise on quality.


Custom-Designed Retaining Walls
If you have some specific design ideas in mind, feel free to call us, and one of our experts will contact you to discuss the details. We use the best grade materials and installation techniques, so your walls are resilient and easy to maintain. Dual-use walls with seating or planter spaces provide additional value, and we can plan and install these for you as well.

If you want any more information about our hardscaping services and want to get retaining walls for your property, please call Good Earth Landscape Co at (805) 659-5131 or write to us through this Contact Us Form.