Landscape & Hardscape Services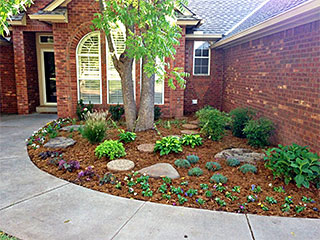 Good Earth Landscape Co. is a leading company in the landscaping industry in Ventura. For over four and a half decades, we have been serving commercial and residential clients in and around Fallen Leaf, Ventura. We know that the functionality, durability, sustainability, and attractiveness of landscapes depend on aspects such as design, planning, materials, and techniques used. If you want outstanding landscape plans and layouts and related solutions, we are the experts to call. The range of services we offer includes:


Landscape Design
The overall appearance, functionality, and practicality of your landscape hinge on how well areas have been designed and planned. Our landscape designers work very hard and develop all of the elements correctly. They will make use of the right kind of softscaping and hardscaping features to create a well-balanced look in your outdoor areas. We always focus on customization, ensuring that the services we offer, enhance the appeal of your landscape, and uplift the look of the structure that stands on it. This approach goes a long way in creating outdoor spaces that are a real value-add to your property. Read More About Landscape Design »


Landscape Installation
Once you have approved the design and plans for the landscape, we handle every aspect of the installation. We have skilled stonemasons, paver installers as well as carpenters, outdoor lighting specialists, arborists, and more. All these professionals work in tandem to bring your landscape plans to life. We can install various outdoor living features, water features, fire features as well as everything ranging from driveways, and walkways, to pathways, and more. All the installations will be completed to industry standards using top-grade materials. It improves their resilience, and you can be sure that outdoor spaces would be able to endure exposure to the elements and regular use. Read More About Landscape Installation »


Outdoor Living
Creating the perfect relaxation and entertainment zone in the outdoor areas of a property is no mean feat. Not only do the features have to be selected and planned with care, but suitable quality materials need to be used in the installations. Our team of designers works relentlessly to incorporate your ideas and plans into the designs they provide. We use high-quality materials in the installation of decks, patios, and fire features zones to create outdoor living spaces that will reflect your lifestyle. We can also design and plan the perfect outdoor kitchens, enabling you to make the best use of the available yard space. Read More About Outdoor Living »


Sustainable Landscape
As a company that is always in sync with the latest trends, we provide high quality, customized sustainable landscape design and installation services. Many of our clients want environment-friendly features and elements in their landscape without compromising the usability and functionality aspect. Our team is very knowledgeable in these aspects and provides sustainable landscape ideas and plans. We focus on the installation of native plants and trees in the right proportion. The use of water and energy-efficient features in the landscape design helps create the right balance in your outdoor spaces and is an essential aspect of building sustainable landscapes. Read More About Sustainable Landscape »


Landscape Maintenance
Once you have a well-planned and well-designed landscape, you also need to make sure that all the features are maintained regularly. We offer customized residential and commercial landscape maintenance plans. We know that every property will have different types of features and elements installed in it. It's why we adopt a tailored approach and provide a wide range of landscape and grounds maintenance services to our residential and commercial clients. We handle everything from plant and lawn maintenance to tree removal and more. Our company always uses the best quality products and landscape maintenance techniques, which improves the health and resilience of all the features in the outdoor spaces. Read More About Landscape Maintenance »


Paver Walkways
We offer customized paver walkway design and installation solutions to commercial and residential clients. You can choose from pavers made of natural stone, brick, or concrete to create the kind of aesthetic you want on your property. Our designers work with you and design all these installations correctly so that the layout and plans complement the available space. They will also help you with information about the different materials and their characteristics. Our paver installers will complete the job to industry standards so that your walkways are stable and last for many years with the least amount of maintenance. Read More About Paver Walkways »


Paver Driveways
If you want a resilient and long-lasting driveway, pavers are an excellent choice for the structure. There are different types of paving materials to choose from, and interlocking concrete pavers are what we recommend. You can also opt for paver stones made of brick or natural stone. These units can create the right ambiance in the outdoor spaces of your property. Paver driveways are easy to install and maintain, look stunning, and improve the overall appeal of your outdoor spaces. We have highly experienced paver installers that will make sure the driveway is constructed correctly and is in line with the approved plans. Read More About Paver Driveways »


Paver Patios
When you are getting a patio designed and planned, you want to be sure that the feature would be able to endure exposure to the elements. It is why we recommend the use of paver patios. These units are available in materials such as concrete, natural stone, and brick, and you can choose from pavers of different colors, designs, styles, shapes, and sizes. Since they are so versatile, they become the perfect choice for outdoor living features such as patios. While we are designing and planning the layout of your patio, we can also install similar paving in the walkways leading into your landscape. Read More About Paver Patios »


Retaining Walls
If you have sloped ground, creating useable outdoor spaces is difficult or impossible without a retaining wall. These specially engineered walls allow you to do this without much trouble. To create well-graded areas, construction of a garden bed, a lawn, a deck, patio, or an outdoor kitchen, and parking lots, retaining walls can support soil and earth. Rock, brick, boulders, block even wood can be used to build retaining walls, and we recommend suitable materials after assessing the space and understanding the purpose and functionality you need. We use top-quality retaining wall products for a structure that looks great while providing your landscape the support it requires to be safe for use. We can also build combination material walls in line with your needs and budget. If you need these features for an existing landscape with erosion issues, our skilled and experienced team will provide custom solutions for resilient and long-lasting block retaining walls. Read More About Retaining Walls »


Outdoor Lighting
The beauty of your landscape depends on the types of features and elements installed in it. While it is necessary to choose the plants and masonry elements with care, you also need proper illumination to highlight these features. Carefully selected outdoor lighting fittings and fixtures not only improve the beauty of your landscape but also make the areas safer and more accessible. We use energy-efficient LED lighting fixtures to enhance the curb appeal and value of your property. Outdoor grade fittings and the latest installation techniques will be used in the project for the best impact. Read More About Outdoor Lighting »

For additional information about our customized landscape design and installation and related services, feel free to call Good Earth Landscape Co at (805) 659-5131. Our expert design team is here to help with the unique solutions you require. You also have the option to send us your queries via this Online Form, and one of our expert professionals will contact you soon.