Outdoor Living
Backyards have always been hubs for relaxation and gathering, and their popularity is ever-growing. This newest landscape trend allows exploring one's creativity to extend indoor to outdoor, blurring the lines between coming in and going out.

At Good Earth Landscape we believe the first step in designing outdoor living is deciding how your space is going to be used. Depending on the size of the area, you may choose to divide it into sections with designated purposes, or you may opt for a sprawling garden accented by a dining patio and indoor/outdoor kitchen. We believe it is very important to focus initially on functionality in order to maximize your use of space. Creating an outdoor living space may utilize various combinations of designated areas.

Here are some suggestions for divisions:


Relaxing - An area where you and your guests can simply sit back and enjoy the beauty of the outdoors. Depending on your personal interests, this may be a swimming pool, Jacuzzi, fireplace or a cozy sitting area with outdoor furniture. You may want to create an environment to enjoy the specific peace and quiet found only when surrounded by nature. Seclusion from the rest of the yard and can be as simple as a bench or chair to relax in with your favorite book, or it could involve a water feature to add to the tranquility of your environment.


Outdoor Kitchen - An outdoor kitchen can help you slow down and spend more time with family and friends by putting all the ingredients for outdoor dining close at hand. From simple to gourmet, an outdoor kitchen space can be as simple as a storage cabinet for cooking gear or as ambitious as a full kitchen with pizza oven, grill, refrigerator, sink and eating area. Either way, your yard will gain an outside "room" that's a natural gathering spot.


Dining - Whether your typical gathering is a handful or a houseful, a comfortable and convenient place to eat is a must. A small terrace near the kitchen is perfect for a patio table under a pergola, or you may want to designate another area in the open for larger dining arrangements where visiting, eating, and observing can all happen from a singular vantage point.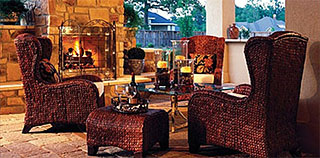 Our goal at Good Earth Landscape is to create beautiful outdoor living spaces that naturally extend the living space of your home and property while increasing the value. The Good Earth Landscape design team prioritizes form, function, color, sound, smells, textures, environmental stewardship utilizing sustainable principles. Whether your project is new landscape construction or renovation, each landscape design is created with our client's wishes in mind - bringing attainable luxury to your outdoor living space.