Paver Patios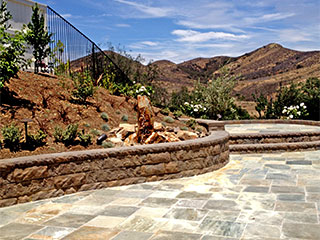 A patio is an excellent addition to your residential property. Depending on the available space, you can determine how big a patio you want. This space is perfect for extending the indoor living areas of your home while being able to enjoy the outdoor environment. While a paver patio may seem like a straightforward structure, a significant amount of planning goes into it. The installation has to be done carefully using suitable quality materials to ensure the durability, functionality, and life span of the feature.

Good Earth Landscape Co. is a premier company in the landscaping industry in Ventura. Since 1974, we have been the leader in offering a range of landscaping services and handle paver patio design and installation projects. Our company provides custom solutions to both residential and commercial clients in and around Fallen Leaf, Ventura.


Custom Paver Patio Ideas
We know from experience that the usability, resilience, and attractiveness of outdoor living features depend on their design. If you want superb paver patio plans and layouts, we are the experts to call. The attractiveness and functionality of your patio depend on how well the area has been used.

Since every homeowner has a specific idea about how they want their patio to look, we have a detailed consultation with you to get a clear understanding of your particular requirements and preferences. Many different materials are available for patio construction, but we recommend the use of paver stones.


Unique Residential Patio Layouts
We use our innovative and creative approach to provide detailed paver patio plans and layouts. For example, if you like the idea of creating a warm and cozy atmosphere in the outdoor space, we can help with a stone fire pit installation. Some areas can be segregated with a retaining wall, to create an outdoor kitchen space with plenty of seating for your guests. Regardless of what your requirement is, our hardscape designers are skilled enough to help you turn your vision into reality.


Types of Pavers for Patios
When it comes to paver stones, there are many different materials to choose from, such as:


Concrete - Interlocking concrete pavers are an all-time favorite and suitable for all types of outdoor areas, including patios. They are available in a variety of colors, shapes, sizes, and styles. Our team can create unique patio paver designs and patterns to complement the look of your home and landscape.


Brick - Brick pavers are available in the standard red color as well as various other hues. These units fit perfectly in multiple areas and can complement the aesthetic of formal as well as casual-styled landscapes.


Natural Stone - When it comes to natural stone paving, these features could be made from travertine, granite, slate, bluestone or flagstone, etc. If you like, we can use a combination of stones to create unique patio designs.


When we handle the job, our team will install all the units perfectly so that you have a resilient, stable, and stunning residential or commercial patio on your property. For any more information about our custom paver patio design and installation services, feel free to call Good Earth Landscape Co at (805) 659-5131. Our team is here to help with the solutions you need. You can also send us your queries and requests through this Online Form, and one of our experts will contact you soon.